What is the best age to learn chess? Parent's Guide
If you are a parent, sure you think that your child has a brilliant mind and the smartest from all, and you're not mistaken. Every child is exceptional and brilliant in his own unique way. But sometimes you make a lifelong mistake by pushing your child to do something at the very young age and get disappointed when you get the result but not the one you anticipated.
Have you ever thought why you don't get your wanted result which greatly affects your child? There can be two different conclusions whether you pushed your child so hard that he lost his interest towards chess or you have started to teach chess at the wrong age and not in the right way. But after all, we should remember that learning is very personal and everyone has his own ways of learning, as they said the younger the better.
Some say 5 is too early others say 9 is too late, but what can you say about Misha Osipov who played chess with legend GM Anatoly Karpov at the age of three? Are you confused?
If you're kid keen on chess, join our free Webinar "SECRETS OF BECOMING A GRANDMASTER" and ask your question to a GM.
However, even though you find out that your kid is not a talented chess player, don't be disappointed, we all know the benefits of chess. As Chess Legend Tigran Petrosyan said, "No one should ever regret the time devoted to chess, because it will help in every profession".
So how to know when to start chess learning?
If you've decided to teach chess to your child and still afraid of the early age of your kid, mind out you must know how to start your child's chess journey. As many educators claim, the best age for chess learning can be 6-8 when they start school.
One of the most challenging experience is the first chess lesson. Don't be encouraged by the child's learning speed. REMEMBER children learn too quickly but the risk that they will remember everything is lower than you expect.
Notice, even though you don't know anything about chess besides its name and pieces' names, you can teach your child yourself, using special guides made for parents.
One of the brightest examples of such kind of books can be "Chess is Child's Play: Teaching Techniques That Work" by Bill Kilpatrick and Laura Sherman. An easy and handy book specially made for parents, easy to understand and funny to read, including anecdotes in "Coffee Talk" came from the teaching experience of the authors and also "Coach's Corner" with extra techniques from their experiences.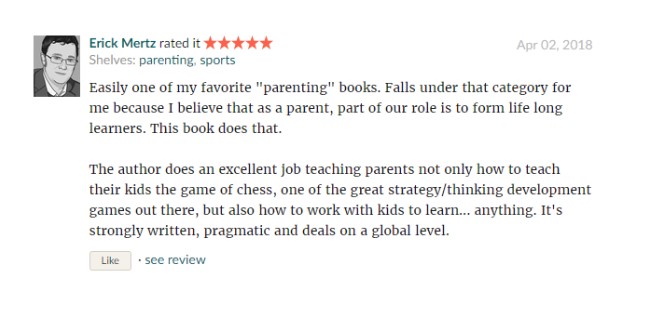 Dr. Alexey Root(former US Women's Champion and senior Dallas) and the author of the great guideline for chess educators "Thinking with Chess: Teaching Children Ages 5-14" suggested that five years old can be chess learning age.
Do not forget that this can be very personal and everyone learns in a unique way when other five years old kids find it difficult to learn chess, there are kids that learn and play at that very young age. For example, Garry Kasparov when was 5 years old offered his parents a solution to a chess problem in the local newspaper.
Magnus Carlsen learned to play chess at 5, Jose Capablanca learned the rules of the game at 4 watching his father play with others.
Bill Kilpatrick and Laura Sherman, the authors of the "Chess is Child's Play: Teaching Techniques That Work" book, started their book by explaining the Rook.
Why the Rook?
Because many parents start teaching chess by explaining firstly the Pawn which can be very logical to start with but no, it will be a mistake, because pawn considers one of the complex pieces, so, it's better to teach it's structure last. One of the easiest to grasp piece is Rook. Also don't rush to teach Knight's movements at the beginning, keep it for the later lessons, or before explaining the pawn.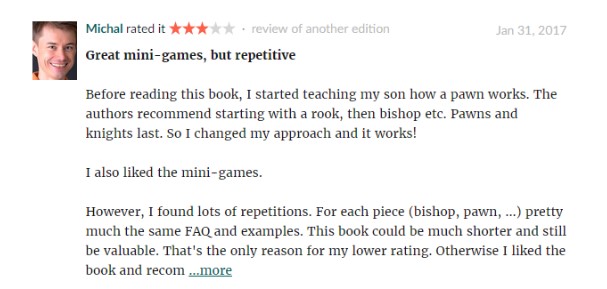 Don't overload your kid with all the chess material because all those things can be very hard to remember and as a result, your child will easily lose his interest in chess.
The most important rule above all, BE PATIENT while teaching chess to your child, REMEMBER your child is the reflection of yourself, how you teach and treat the subject, in the same way, they will treat the subject. (you know better how they notice every minor detail).

The Brainy Benefits of Chess
In the thoughts of all moms, chess players are smart, well behaved, calm thinkers, and the most important of all good at maths. Those skills are enough for certain moms to get their kids to learn chess. Besides those skills Chess has some brainy benefits that some of you haven't heard, yet. "10 benefits of teaching kids to play chess".
Dear parents never underestimate your child. Who knows abilities, and keep away from chess may be the next rising star will be your own kid. Your kid is a unique, creative, and thinking mind. Give the chess world a new breath, Don't be late, Act now and the chess world will welcome you.
Let's chess with Woochess.
Don't forget to share your opinion with us.
Опубликованный в : 05 Jun 2018